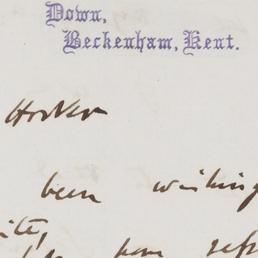 Summary
His indignation at the malignant, odious, hypocrite Owen's attack on JDH. History of Secretaryship [of Royal Society in Nature 9 (1873): 129–30] was best answer to Owen.
Is hard at work on new edition of Descent – a truly awful job.
No use going on with experiments on effects of water on bloom-divested leaves. May have erred. Or it may be that water is only injurious when there is a good supply of actinic rays. Will wait until spring.
| | |
| --- | --- |
| Author:   | Charles Robert Darwin |
| Addressee:   | Joseph Dalton Hooker |
| Date:   | 20 Dec [1873] |
| Classmark:   | DAR 95: 308–9 |
| Letter no:   | DCP-LETT-9187 |