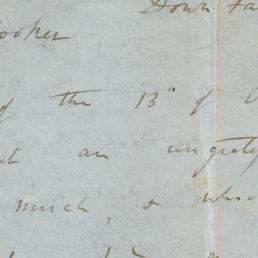 Summary
CD's health and his father's death have delayed his answer. Describes J. M. Gully's water-cure.
JDH's Galapagos papers [Trans. Linn. Soc. Lond. 20 (1851): 163–233] have excellent discussion of geographical distribution, but why no general treatment of affinities?
CD's views on clay-slate laminae.
Turmoil in Royal Society between naturalists and physicists.
| | |
| --- | --- |
| Author:   | Charles Robert Darwin |
| Addressee:   | Joseph Dalton Hooker |
| Date:   | 28 Mar 1849 |
| Classmark:   | DAR 114: 113 |
| Letter no:   | DCP-LETT-1236 |