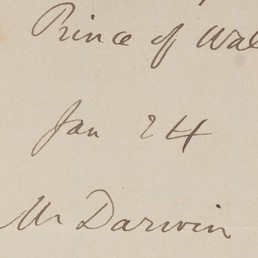 Summary
Wallace noticed that melastomads in Malay archipelago were visited by small Hymenoptera.
Darwinism discussed at the last meeting of the Zoological Society. The Darwinians had the best of it.
HWB has committed the "folly" of marriage [to Sarah Ann Mason, 15 Jan 1863].
Printing of vol. 1 [of Naturalist on the river Amazons] is nearly finished.
| | |
| --- | --- |
| Author:   | Henry Walter Bates |
| Addressee:   | Charles Robert Darwin |
| Date:   | 24 Jan 1863 |
| Classmark:   | DAR 160: 73 |
| Letter no:   | DCP-LETT-3941 |