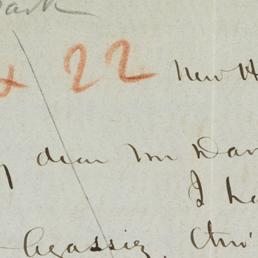 Summary
Agassiz has informed him that the mice and rats of Mammoth Cave are American in type.
Alludes to CD's doubt of the principle that "progress of life on the globe is parallel with the development in different tribes". Outlines his own ideas on the "unfolding of the type-idea" and its "parallelism with the law of development in the embryo".
| | |
| --- | --- |
| Author:   | James Dwight Dana |
| Addressee:   | Charles Robert Darwin |
| Date:   | 8 Dec 1856 |
| Classmark:   | DAR 205.9: 378 |
| Letter no:   | DCP-LETT-2016 |
Summary
Thanks for sending paper on geological development (Dana 1856). Discusses infertility of species. Discusses first part of Asa Gray's paper (A. Gray 1856–7). Thanks for note on the Cave Rat. Discusses a new species of fossil cirripede, in the genus Chthamalus. Explains his interest in pigeon breeding.
| | |
| --- | --- |
| Author:   | Charles Robert Darwin |
| Addressee:   | James Dwight Dana |
| Date:   | 21 Dec [1856] |
| Classmark:   | Catherine Barnes (dealer) (2003) |
| Letter no:   | DCP-LETT-2020F |