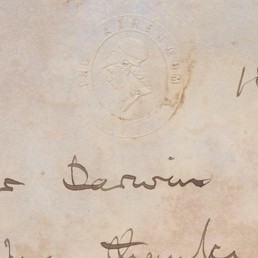 Summary
Jaw with teeth found associated with Archaeopteryx fossil. Waterhouse pronounces it a fish's jaw.
| | |
| --- | --- |
| Author:   | Hugh Falconer |
| Addressee:   | Charles Robert Darwin |
| Date:   | 18 Jan [1863] |
| Classmark:   | DAR 164: 13 |
| Letter no:   | DCP-LETT-3926 |
Summary
The central idea of Darwin's theory of coral reef formation, as it was later formulated, was that the islands were formed by the upward growth of coral as the Pacific Ocean floor gradually subsided. It overturned previous ideas and would in itself…
Summary
Re: Design – Adaptation of the Correspondence of Charles Darwin, Asa Gray and others… by Craig Baxter – as performed 25 March 2007
Summary
In April 1838, Darwin began recording the titles of books he had read and the books he wished to read in Notebook C (Notebooks, pp. 319–28). In 1839, these lists were copied and continued in separate notebooks. The first of these reading notebooks (DAR 119…
Summary
It was a letter from his friend and former teacher, John Stevens Henslow, that brought the 22-year-old Charles Darwin news of the offer of a place on board the Admiralty surveying vessel HMS Beagle on a voyage to chart the coast of South America. During…
Summary
Darwin collected minerals as a child and was introduced to the science of geology at the University of Edinburgh, but he only became actively interested in the subject as he was completing his degree at Cambridge.
Matches: 1 hits
… field trip to study the stratigraphy of North Wales.  A letter written beforehand to Henslow …
Summary
On 28 March 1849, ten years before Origin was published, Darwin wrote to his good friend Joseph Hooker from Great Malvern in Worcestershire, where Dr James Manby Gully ran a fashionable water-cure establishment. Darwin apologised for his delayed reply to…
Summary
There are more than five hundred letters associated with the research and writing of Darwin's book, Descent of man and selection in relation to sex (Descent). They trace not only the tortuous route to eventual publication, but the development of Darwin's…