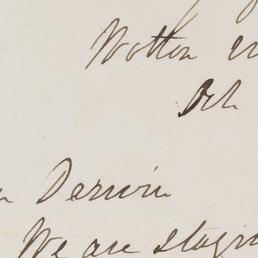 Summary
Oliver will attend to his letter.
Tells of discovery and rediscovery of Aldrovanda.
Asks what CD thinks of "old Pritchard's discourse" [C. Pritchard, Natural science and natural religion (1874)]. Does not affect evolution at all. It does affect the rather unprofitable doctrine of materialism.
His plans for the Royal Society Presidential Address.
| | |
| --- | --- |
| Author:   | Joseph Dalton Hooker |
| Addressee:   | Charles Robert Darwin |
| Date:   | 11 Oct 1874 |
| Classmark:   | DAR 103: 226–7 |
| Letter no:   | DCP-LETT-9673 |