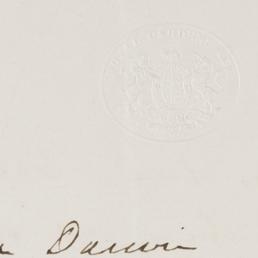 Summary
Plans to write an account of his trip to Morocco and, with John Ball, the botanical geography, for Linnean Society.
Results mainly negative; the Atlas exhibits "the dying out of European flora".
Only two or three beetles above 8000ft.
Disappointed that Canary Island species are absent from Atlas mountains; but an ocean current along Moroccan coast should help migration of Spanish, Portuguese, and Moroccan seeds to Canaries and Madeira.
Describes Lyell's poor physical condition. Asks CD for his observations of symptoms.
| | |
| --- | --- |
| Author:   | Joseph Dalton Hooker |
| Addressee:   | Charles Robert Darwin |
| Date:   | 3 July 1871 |
| Classmark:   | DAR 103: 69–70, DAR 205.2 (Letters): 240 |
| Letter no:   | DCP-LETT-7848 |