Summary
Relates personal news about family members.
CD is "glad Glen Roy is settled".
Mentions evolutionary remarks on birds by Owen.
Compares variability among lower and higher organisms. Comments on Hooker's view of the subject.
Forthcoming publication of Huxley's book [Evidence as to man's place in nature (1863)] and Lyell's [Antiquity of man (1863)].
| | |
| --- | --- |
| Author:   | Charles Robert Darwin |
| Addressee:   | Charles Lyell, 1st baronet |
| Date:   | 22 Aug [1862] |
| Classmark:   | American Philosophical Society (Mss.B.D25.281) |
| Letter no:   | DCP-LETT-3695 |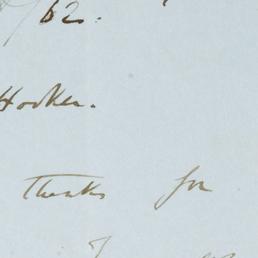 Summary
Lythrum. Wants to examine fresh flowers of Lythraceae. Lythrum salicaria has interested him very much.
Microscopes.
Asks whether JDH can think of plants that have different coloured anthers or pollen in same flowers (as in Melastoma) or on same and in different plants as in Lythrum. Would be a safe guide to dimorphism.
Observation of action of pollen in Linum grandiflorum.
| | |
| --- | --- |
| Author:   | Charles Robert Darwin |
| Addressee:   | Joseph Dalton Hooker |
| Date:   | 22 [Aug 1862] |
| Classmark:   | DAR 115: 162 |
| Letter no:   | DCP-LETT-3696 |