Summary
Referring to conversation with Lyell, CD is certain that there was a Miocene glacial period.
Compliments HWB on the mimetic display at the British Museum. Those at the Museum readily accepted HWB's "doctrine".
Was shown genital organs of closely allied Chrysomelidae.
Albert Günther is candidate for position at Museum.
| | |
| --- | --- |
| Author:   | Charles Robert Darwin |
| Addressee:   | Henry Walter Bates |
| Date:   | 9 May [1862] |
| Classmark:   | Cleveland Health Sciences Library (Robert M. Stecher collection) |
| Letter no:   | DCP-LETT-3540 |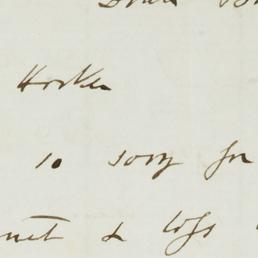 Summary
Sorry to hear of JDH's household troubles.
Will try to get a couple of flowers of Leschenaultia to send him.
"What a good case that of the Cameroons"; the 4000ft [elevation] is much to CD's "private satisfaction".
Sends JDH a copy of Orchids.
| | |
| --- | --- |
| Author:   | Charles Robert Darwin |
| Addressee:   | Joseph Dalton Hooker |
| Date:   | 9 May [1862] |
| Classmark:   | DAR 115: 149 |
| Letter no:   | DCP-LETT-3541 |