| | |
| --- | --- |
| Author:   | Joseph Dalton Hooker |
| Addressee:   | Charles Robert Darwin |
| Date:   | [after 11 Dec 1854] |
| Classmark:   | DAR 205.9: 391 |
| Letter no:   | DCP-LETT-1546 |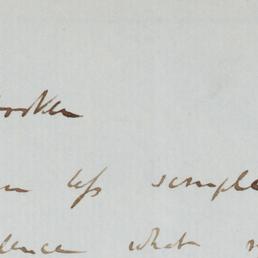 Summary
Debates aberrant species, e.g., Ornithorhynchus and Echidna, with JDH. CD argues they are result of extinction having removed intermediate links to allied forms.
Studying effects of disuse in wings of tame and wild ducks.
Tabulations showing that number of species in a genus is not correlated with number of genera in an order.
| | |
| --- | --- |
| Author:   | Charles Robert Darwin |
| Addressee:   | Joseph Dalton Hooker |
| Date:   | 11 [Dec 1854] |
| Classmark:   | DAR 114: 148 |
| Letter no:   | DCP-LETT-1612 |