Summary
Describes his recent work on Drosera digestion of organic materials, e.g., albumen and gelatin. Edward Frankland has given CD a rough test for pepsin. Some plant extracts cause as much inflection as meat. Has found some reversible inflection with heat and perhaps some heat rigor. Has measured the extreme sensitivity of Drosera with very dilute solution of ammonium phosphate.
| | |
| --- | --- |
| Author:   | Charles Robert Darwin |
| Addressee:   | John Scott Burdon Sanderson, baronet |
| Date:   | 25 July 1873 |
| Classmark:   | University of British Columbia Library, Rare Books and Special Collections (Darwin - Burdon Sanderson letters RBSC-ARC-1731-1-11) |
| Letter no:   | DCP-LETT-8987 |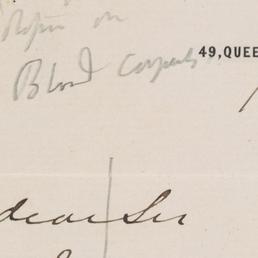 Summary
A hasty answer to CD's letter [8987] of 25 July. Mentions Dr Osler's observations on behaviour of colourless blood corpuscles in solutions of sodium and potassium salts of same strength.
| | |
| --- | --- |
| Author:   | John Scott Burdon Sanderson, baronet |
| Addressee:   | Charles Robert Darwin |
| Date:   | 28 July [1873] |
| Classmark:   | DAR 58.1: 28–9 |
| Letter no:   | DCP-LETT-8988 |